10 Hardscape Ideas You Can Do to Enhance Your Backyard Living!
Incorporating hardscape into your landscape design is a great way to add major curb appeal and value to your home.
There are many ways you can create an enticing and beautiful backyard and/or frontyard that your whole family will enjoy for years to come. Check out these ideas below!
Idea #1: Use various colors and textures to create eye catching paver patterns and mosaics.
Idea #2: Include custom design work by engraving your stone.
 Idea #3: Bring the waterpark to your backyard with permeable pavers by building a fountain play area for kids or pets.
Idea #4: Entertain your guests with outdoor kitchens, pizza ovens, fireplace kits, and recessed seating areas.
 Idea #5: Add decorative paver edging and cobble stones to a garden or create raised planters to keep pet's out of your beautiful flowers.
Idea #6: Dress up a garden with natural stepping stone, garden stones, or slate pavers.
 Idea #7: Create the illusion of separate spaces by using different pavers in various areas and separating spaces with retaining wall systems or pillars.
 Idea #8: Light up the night with paver and outdoor lighting.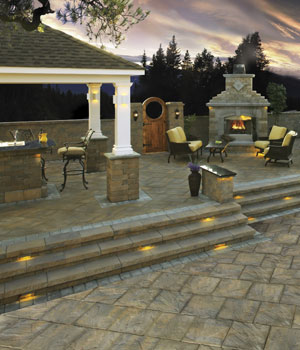 Idea #9: Bring the resort spa into your backyard with natural stone and stone veneer.
Idea #10: Relax with the soothing sound of an outdoor water feature or pond.
Start planning your springtime hardscape project with TLC Supply. We are open year round so come on down with your plans, pictures, and ideas. Beat the rush by planning early and let us dedicate our time to you so that you can create the wonderful outdoor living space you've been dreaming of all winter.
TLC Supply carries a wide selection of premium pavers from Techo Bloc as well as from Belgard, Cambridge Paving Stone, and Genest. Please visit our website to see even more hardscape and masonry products ranging from bluestone,granite,brick,natural stone,block,sand, and cement!
If you liked this page be sure to share it with all your friends! And for even more inspiring paver patios as well as backyard DIY projects and outdoor entertaining ideas follow us on Pinterest!
WAIT! Before you go check this out! You may even like our post How to Build a Paver Patio!
We are happy to answer any of your project questions, just give us a shout! Send us an email to info@tlcsupply.com or leave your comments below. 
 "Best Price, Best Advice" -TLC Supply,Inc.