Protect Pavers and Other Hardscape & Masonry this Winter!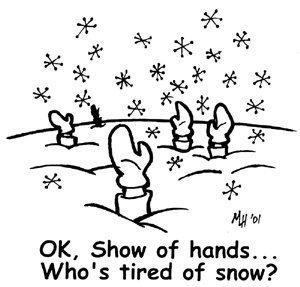 Protect pavers with these 4 simple tips! Keep these in mind this winter to help prevent any damage winter may bring  to your pavers, brick, or any other hardscape products . I've also included 3 Tips on how to protect your roof and prevent any water damage from ice dams. So let's get started!
4 Tips to Protect Your Precious Patios, Driveways, and Walkways: 
Tip 1: Use an ice melt that does little damage to infrastructure and environment. We recommend ice melts with a blend of Magnesium Chloride which is a safer alternative to rock salt. Calcium Magnesium Acetate is another smart alternative because it is biodegradable and safe for pets, masonry, and the environment. Mr. Magic® is a great premium ice melt brand that is fast acting and long lasting! It works at temperatures down to -25° Fahrenheit.
Mr. Magic is safe for masonry, decks, roofing, pets, and the environment! Always make sure the ice melt label says it is safe for hardscape and masonry products. If you cannot find any ice melt that is safe for hardscape then you can sprinkle sand or cat litter for traction. If you opt to use regular (non-safe) ice melt then just be aware of the risk and use it sparingly. But I do have to say this – Please do not risk your safety or the safety of others to protect your hardscape! If an area is heavily coated with ice then go ahead and use the necessary amount of ice melt (whatever it may be) to prevent slips and falls.
Tip 2: Metal blades on shovels and plows can scratch the surface of your driveway, walkway, or patio. If you hire a plowing contractor be sure they use a rubber or polyurethane blade on the plow. Be sure to use a nonmetal shovel as well.
Tip 3: If you are using a snow blower please be careful of pavers that may have moved or lifted during freeze and thaw cycles. Avoid any "lippage" which can occur when a paver, brick, concrete, or even cobble stone edge sticks up from another. This "lip" can catch on snow blowers, plows, and shovels.
Tip 4: On a warmer day you may want to sweep off any excess snow or products on your pavers. This step is not necessary but it never hurts! This can help remove any harmful deicer products and prevent future damage.
3 Great Tips for Removing Snow from Your Roof: 
We have been getting some great questions from customers asking how to remove snow from their roofs. Here are a few simple steps you can take to eliminate snow and ice dams which can otherwise wreak havoc on your roof. As always please proceed with caution when removing snow from your roof, be aware of any icicles that may be hanging, have someone assist you with a ladder, and wear protective clothing and eyewear.
Tip 1: Purchase a roof rake to help alleviate some of the stress the snow may be putting on your roof. A roof rake is a solid piece of metal or plastic about 16 to 20 inches wide on the end of an extension pole, which allows you to rake or pull snow off the roof. Please refer to manual for proper handling and safety instructions.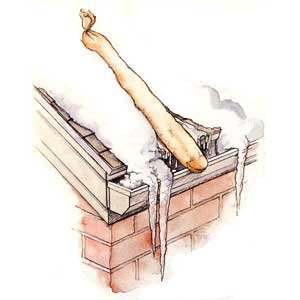 Tip 2: Diminish ice dams with panty hose or long socks! It is that easy! All you need to do is fill the leg of a panty hose with ice melt and lay the hose onto the roof so that it crosses the ice dam and slightly hangs over the gutter. Use a long handle stick to position the hose or sock if necessary.
Tip 3: Do-It-Yourself Roof Melt Tablets. Roof Melt Tablets are little pucks that you can easily toss onto your roof to help prevent damage from ice dams. The way these tablets work is the salt and water mixture melts and drains down, melting the ice in its path. If this is not done then there is the potential of snow and ice buildup underneath shingles which can then seep into interior walls and attics. A simple way to make your own roof tablets is by following the same steps in Tip 2. This is where your old mismatched socks come in handy! All you need to do if fill up socks with ice melt, tie them, and carefully toss them all over your roof.  Ice melt socks are porous and flexible and they are just as effective at removing ice dams.
TLC Supply carries a wide selection of premium pavers from Techo Bloc as well as from Genest Concrete, Belgard and Cambridge Pavers. Please visit our website to see even more hardscape and masonry products ranging from bluestone,granite,brick,natural stone,block,sand,cement, and much more!
If you liked this page be sure to share it with all your friends! And for even more inspiring paver pool decks, patios, as well as backyard DIY projects and outdoor entertaining ideas follow us on Pinterest!
WAIT! Before you go check this out! You may even like our posts  on How to Build a Paver Patio! 
The experts at TLC Supply are happy to answer any of your project questions, just give us a shout! Send us an email to info@tlcsupply.com or leave your comments below. 
 "Best Price, Best Advice" -TLC Supply,Inc.